ROSPEC Wireless Electric Coffee Blender Portable 7.4V 2000RPM Grind Coffee Maker Fruit Juicer Multifunctional Food Processor
Regular price

Sale price

$36.68 USD

Unit price

per

Why Choose ROSPCE ?
The fusion of practicality and fashion, the collision of technology and trend, this is ROSPCE. Compared with traditional small household appliances, ROSPCE has always adhered to the high-end, high-quality, user-friendly brand proposition. Adhering to the concept of luxury, quality, low-key and extraordinary, the perfect qualities of practicality, functionality, fashion, technology, and intelligence are integrated into product design, and we are committed to creating high-quality small household appliance products and creating extraordinary lifestyle.
ROSPCE Brand Vision
ROSPCE represents a kind of life, taste and an attitude towards life. As a young generation of household appliance brands, ROSPPE has been branded from the moment it appeared. "Exquisite life, tasteful life" is the philosophy that ROSPCE has always adhered to. It advocates feeling technology, enjoying life and chasing oneself. ROSPCE's main products include kitchen, household, personal care appliances, to meet the expectations of consumers who love life and have the feelings of petty bourgeoisie for small household appliances.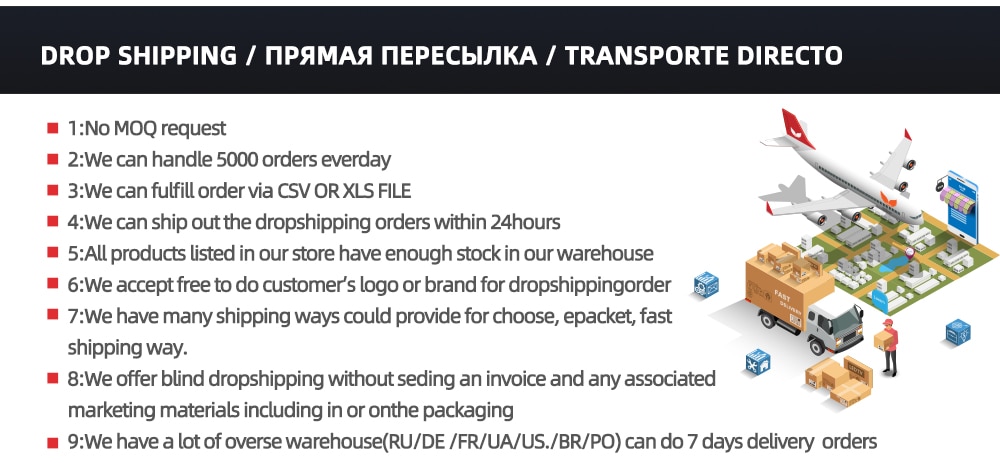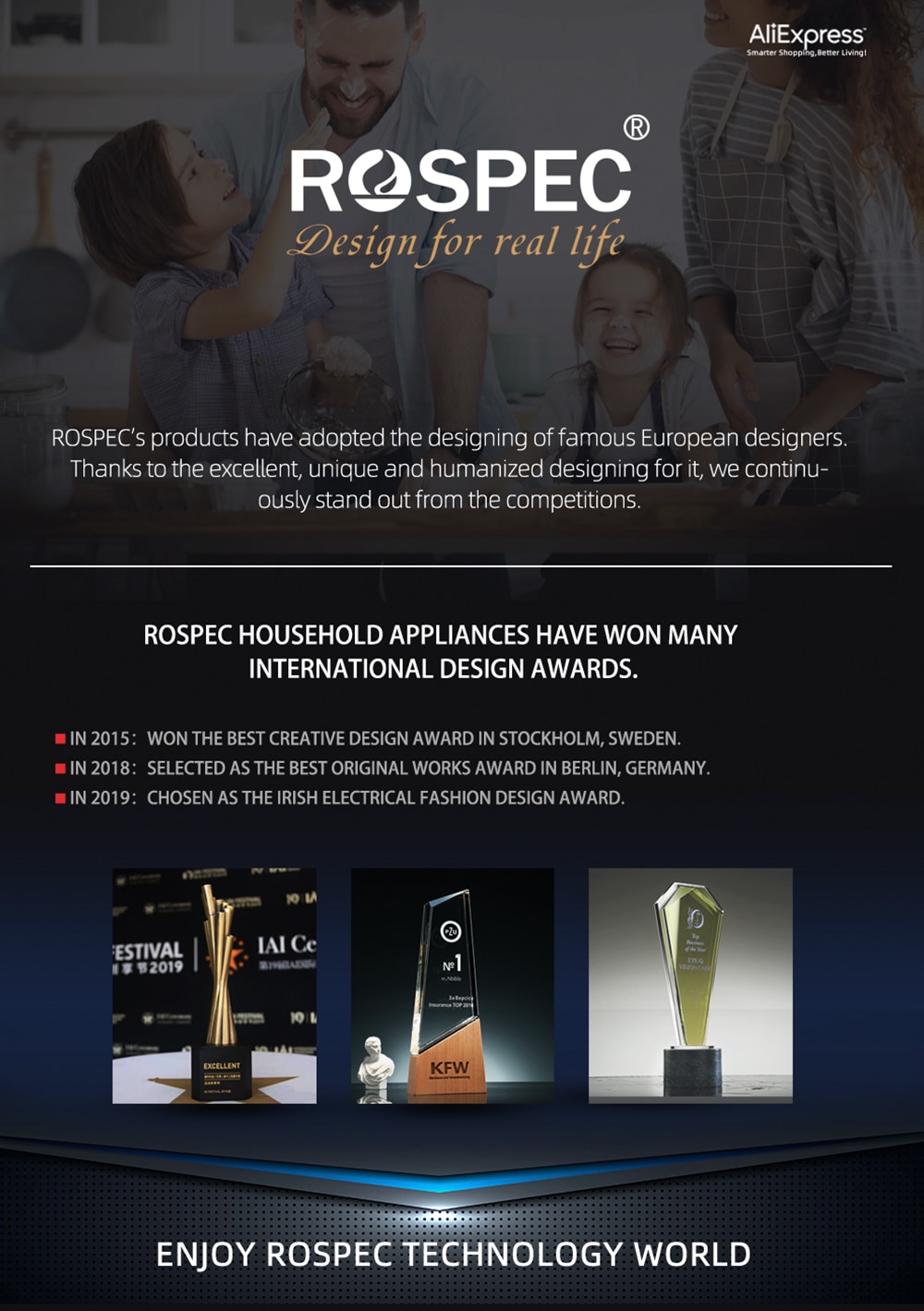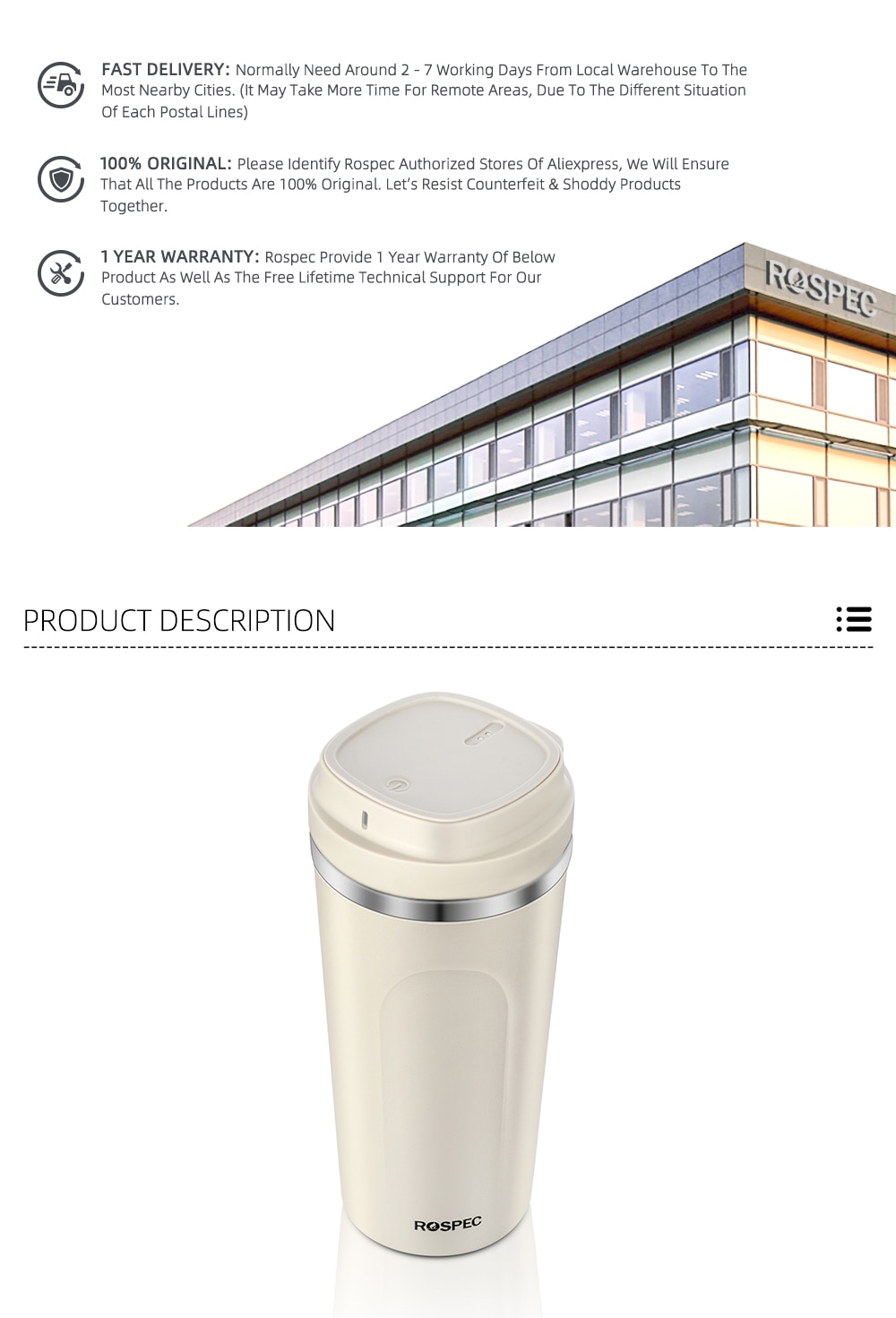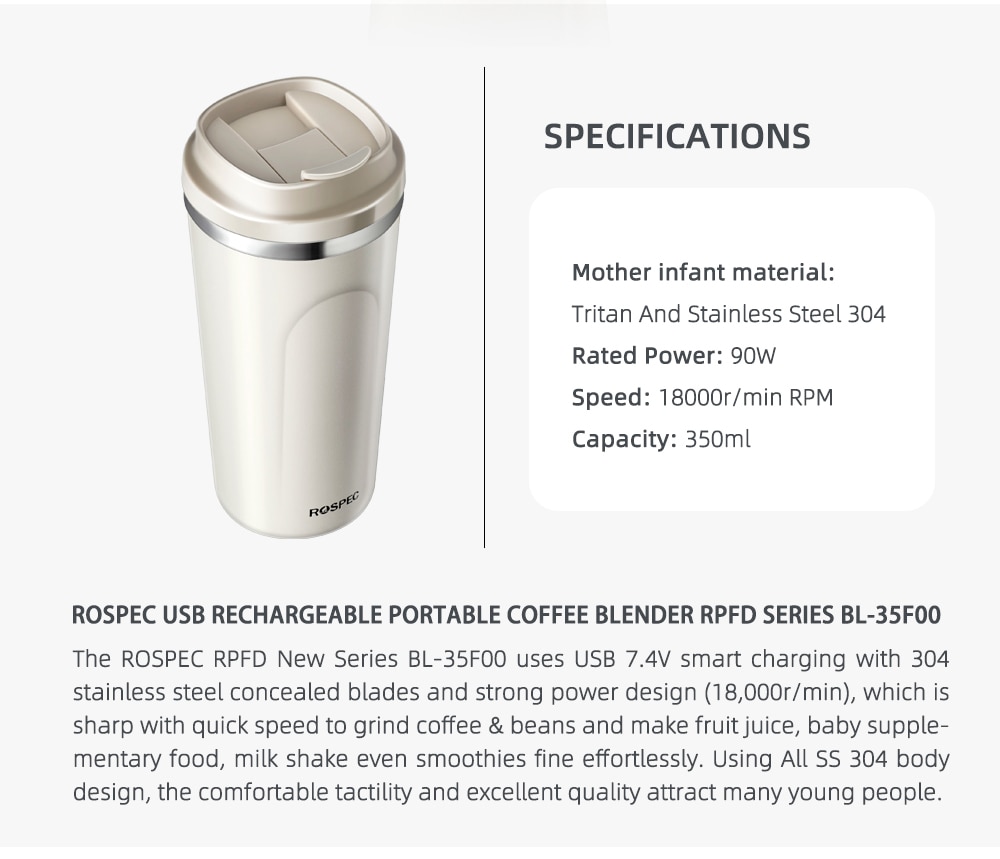 ROSPEC USB Rechargeable Portable Coffee Blender RPFD Series BL-35F00
The ROSPEC RPFD New Series BL-35F00 uses USB 7.4V smart charging with 304 stainless steel concealed blades and strong power design (18,000r/min), which is sharp with quick speed to grind coffee & beans and make fruit juice, baby supplementary food, milk shake even smoothies fine effortlessly. Using All SS 304 body design, the comfortable tactility and excellent quality attract many young people.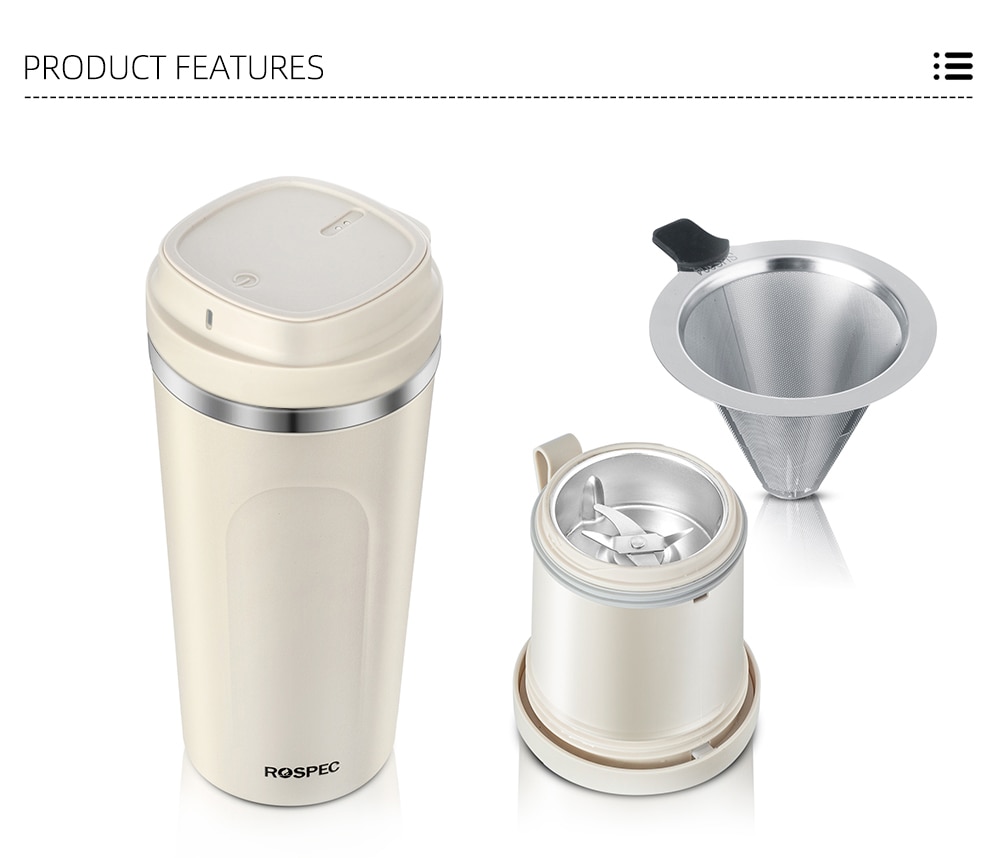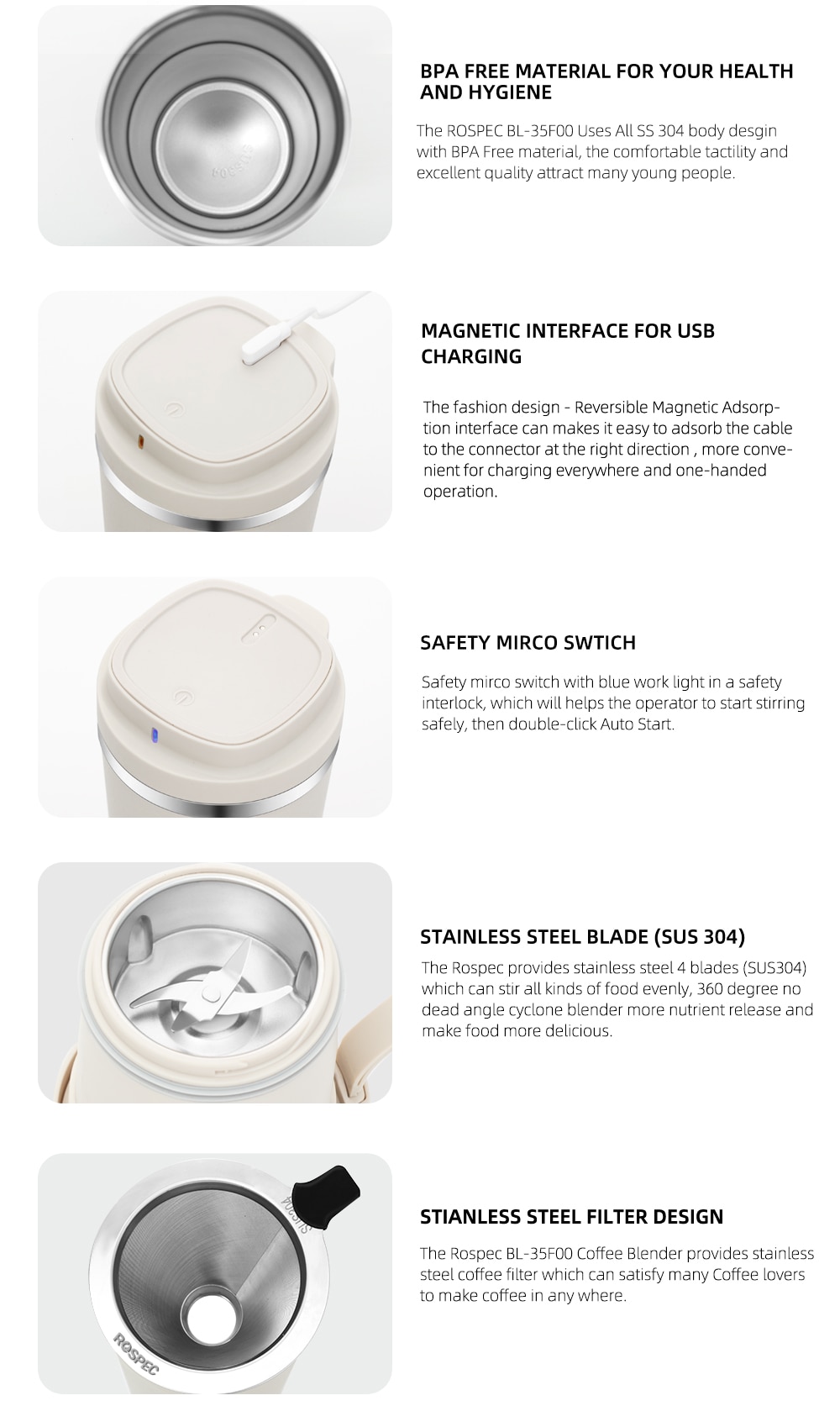 PRODUCT FEATURES
1.BPA FREE MATERIAL FOR YOUR HEALTH AND HYGIENE The ROSPEC BL-35F00 uses All SS 304 body design with BPA Free material, the comfortable tactility and excellent quality attract many young people. 2.MAGNETIC INTERFACE FOR USB CHARGING The fashion design-Reversible Magnetic Adsorption interface can makes it easy to adsorb the cable to the connector at the right direction, more convenient for charging everywhere and one-handed operation. 3.SAFETY MIRCO SWTICH Safety Mirco switch with blue work light in a safety interlock, which will helps the operator to start stirring safely, then double-click Auto Start. 4.STAINLESS STEEL BLADE (SUS 304) The ROSPEC provides stainless steel 4 blades (SUS304) which can stir all kinds of food evenly, 360 degree no dead angle cyclone blender more nutrient release and make food more delicious. 5.STIANLESS STEEL FILTER DESIGN The ROSPEC BL-35F00 Coffee Blender provides stainless steel coffee filter which can satisfy many Coffee lovers to make coffee in any where.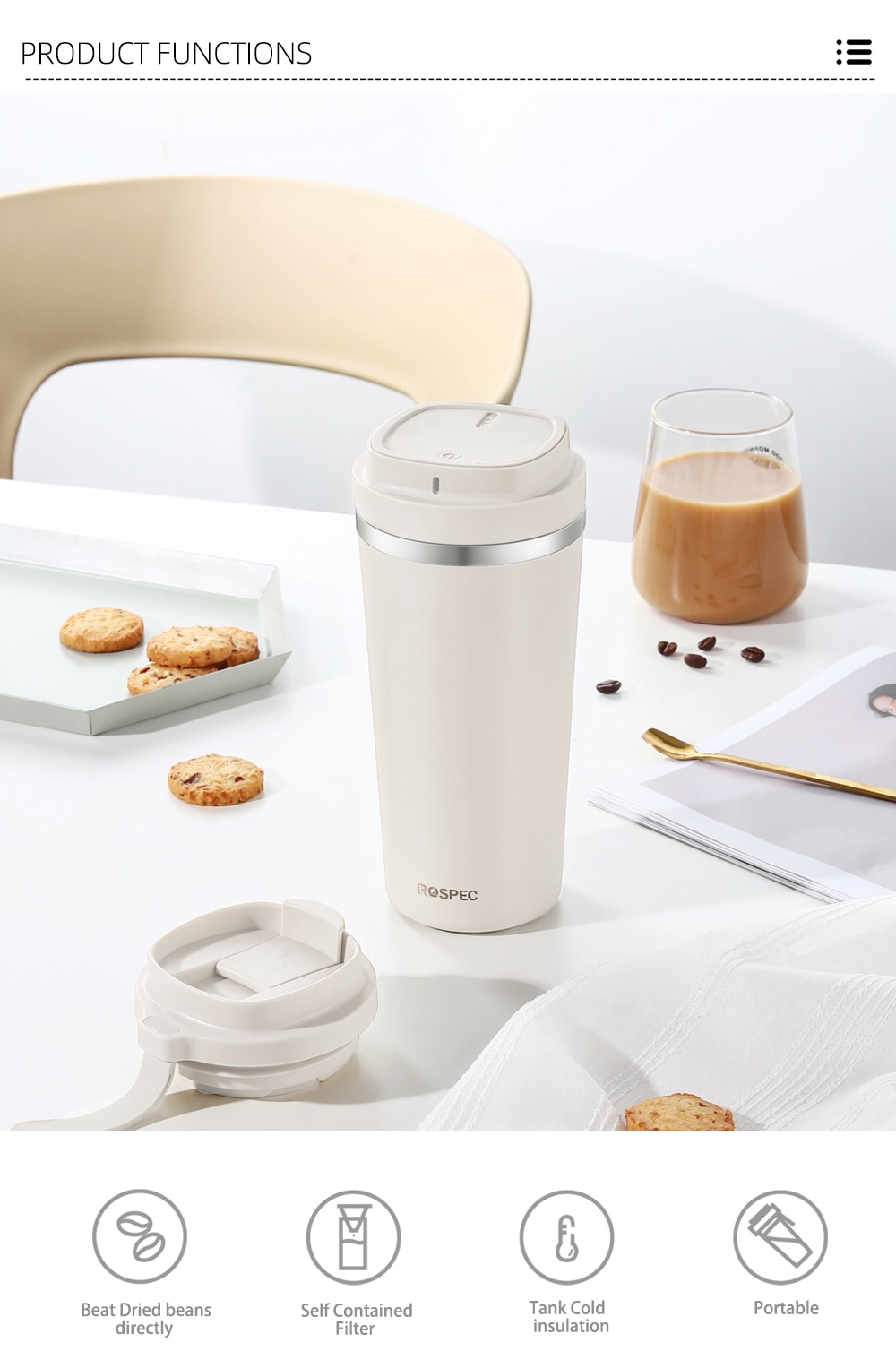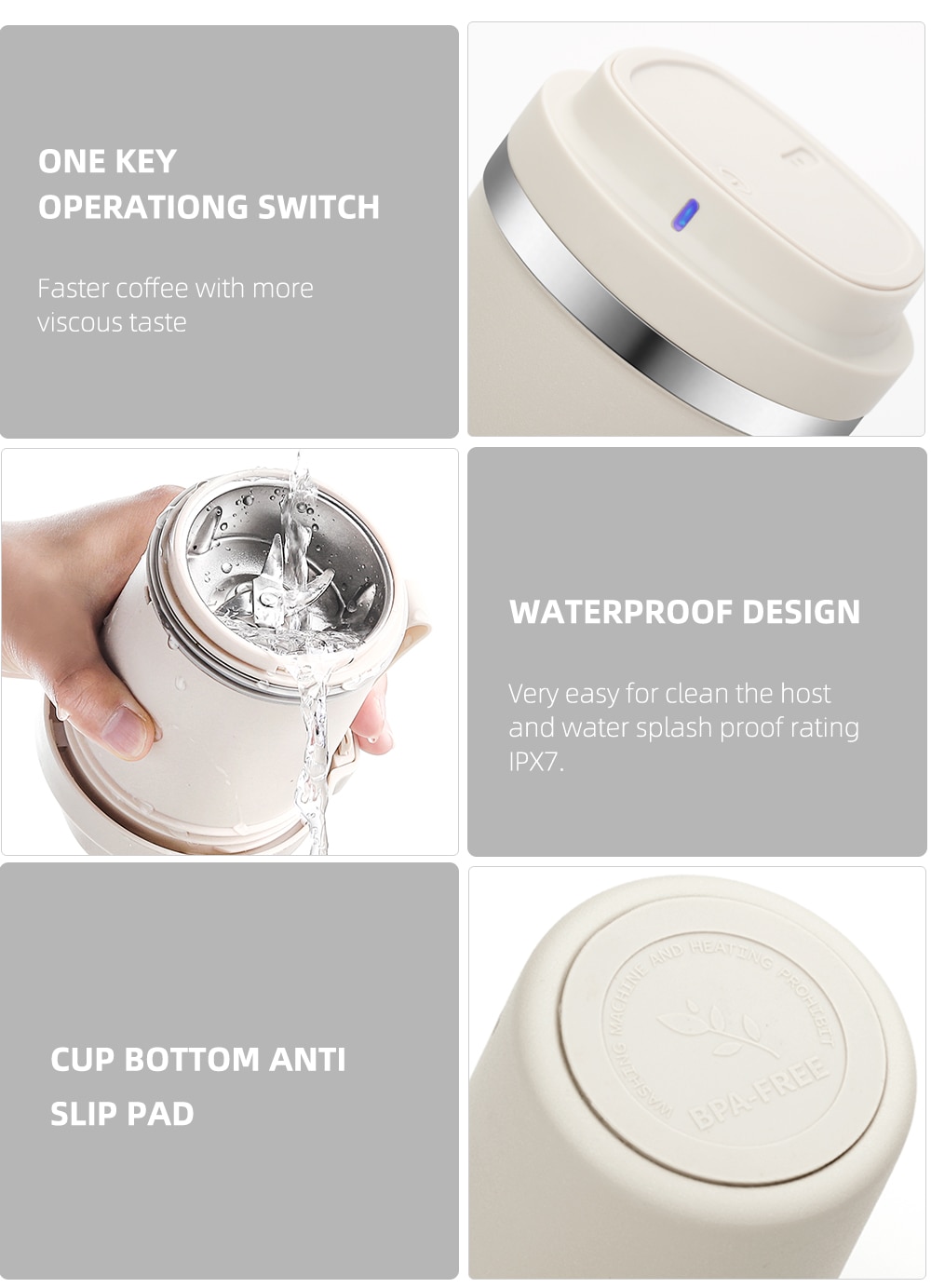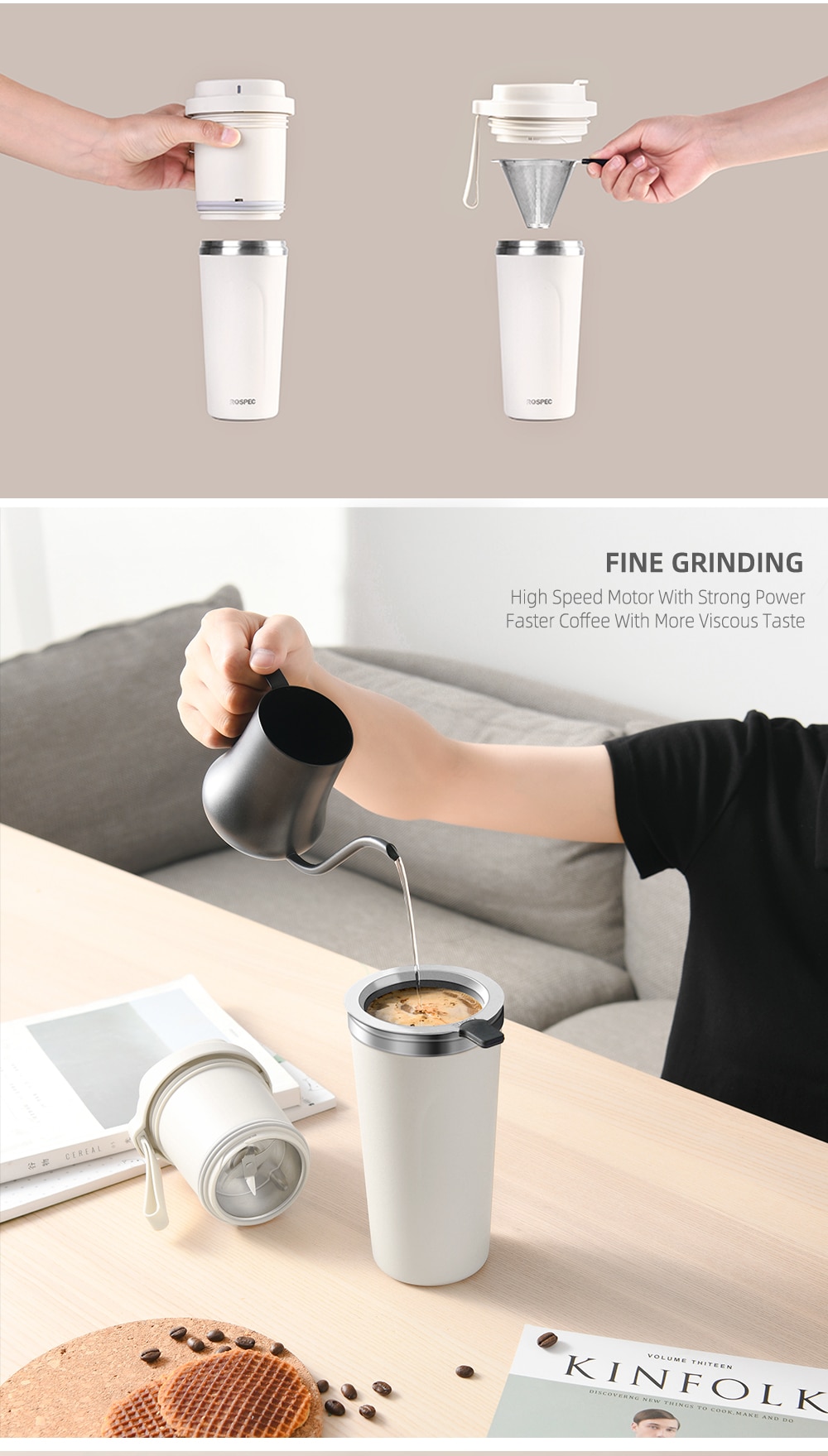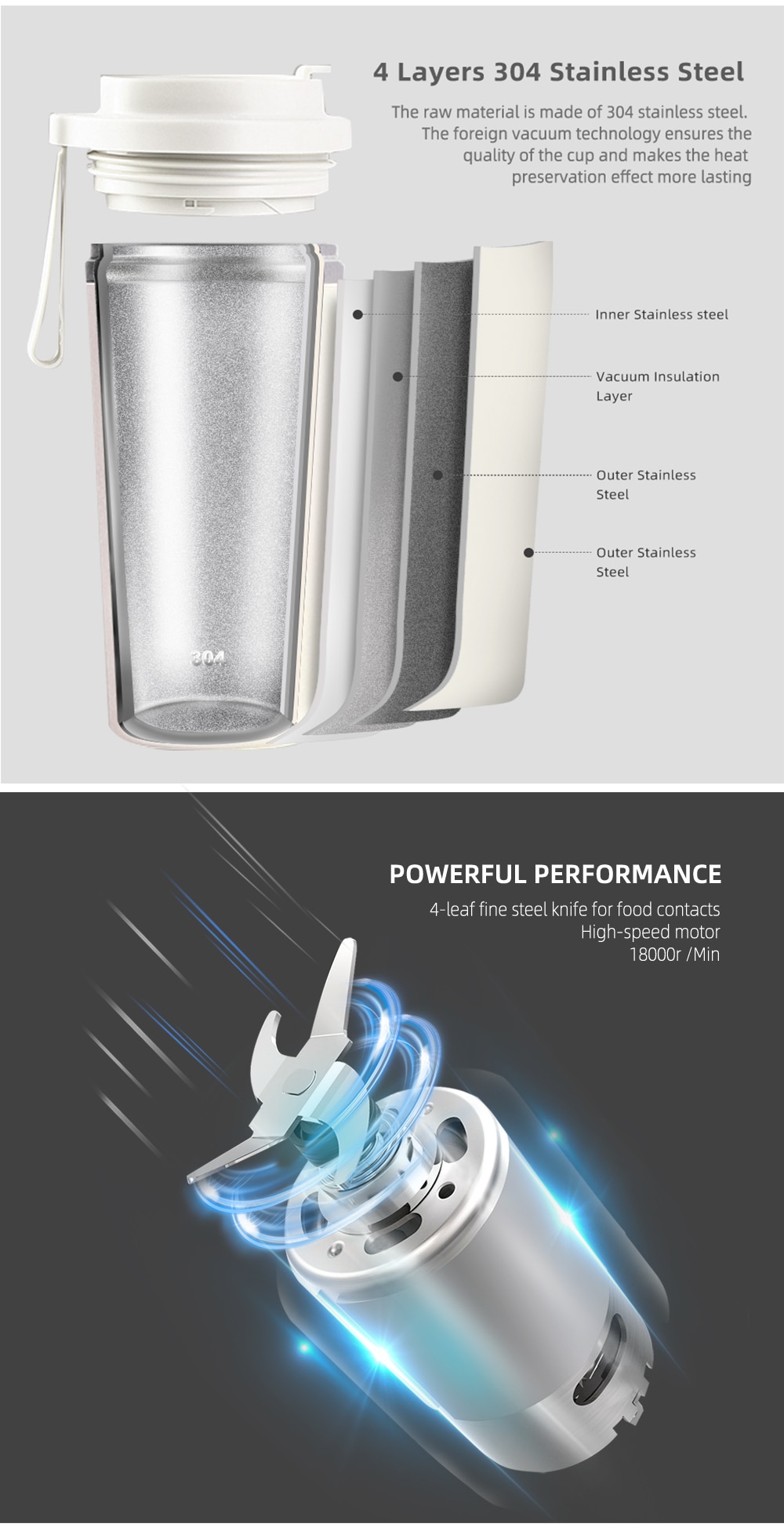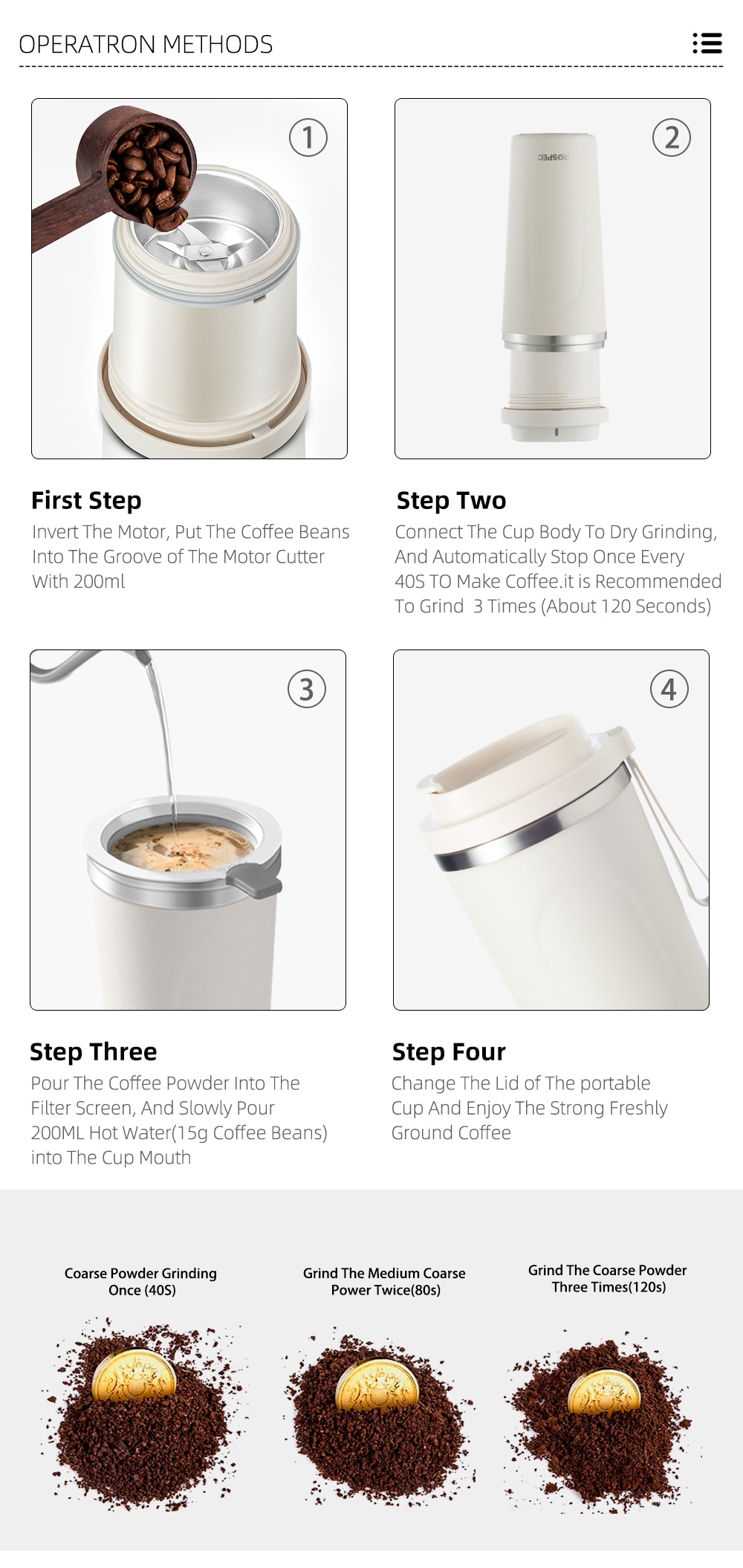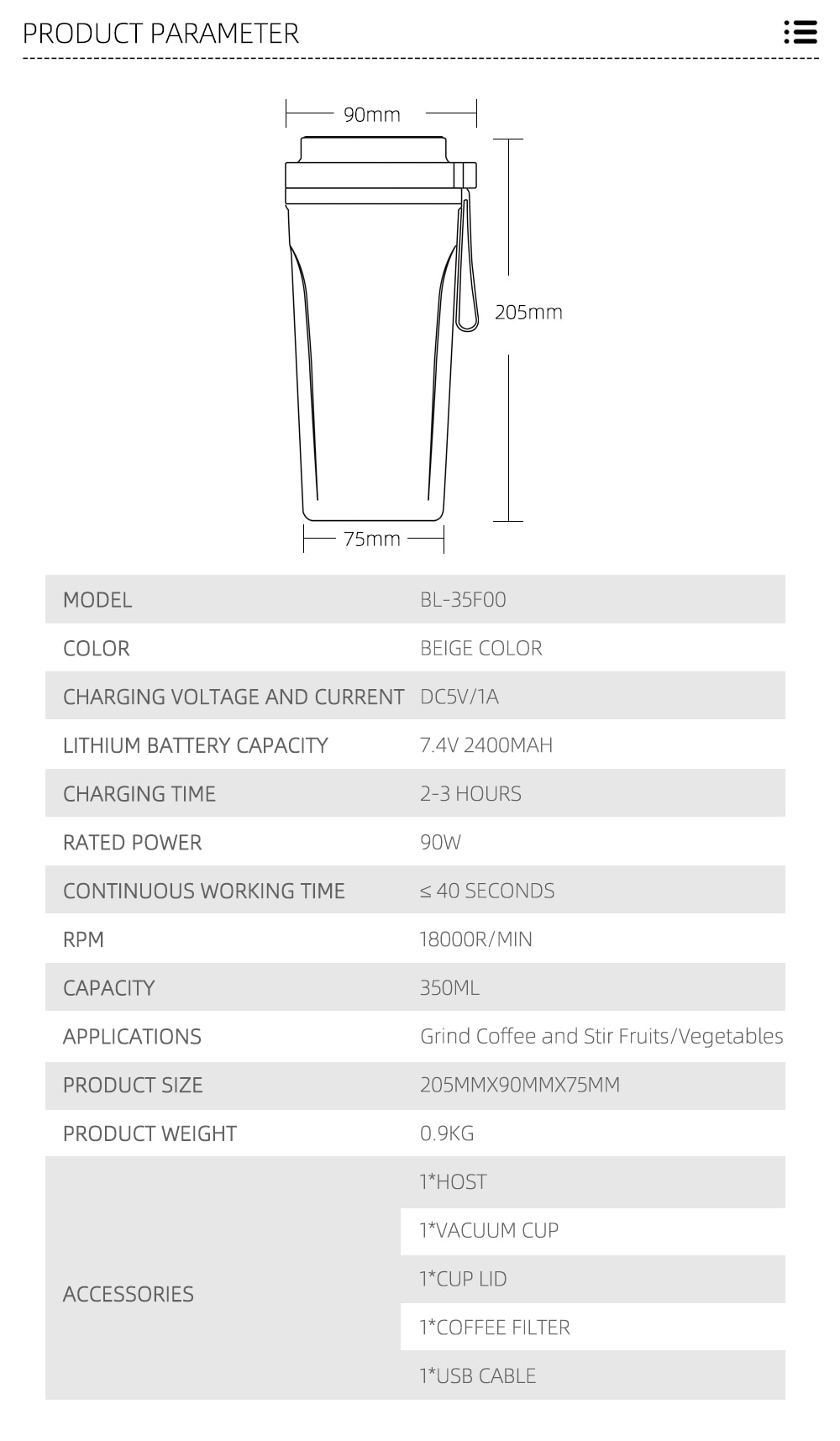 PRODUCT PARAMETER
Model: BL-35F00 Color: Beige Color Charging voltage and current: DC5V/1A Lithium battery capacity: 7.4V 2400mAh Charging time: 2-3 Hours Rated power: 90W Continuous working time: ≤40 Seconds RPM: 18000r/min Capacity: 350ml Applications: Grinding Coffee Beans & Stirring Fruits/Vegetables Product Size: 205mm*90mm*75mm Product Weight: 0.9kg Accessories: 1*Host / 1*Vacuum Cup / 1*Cup Lid / 1* Coffee Filter / 1*USB cable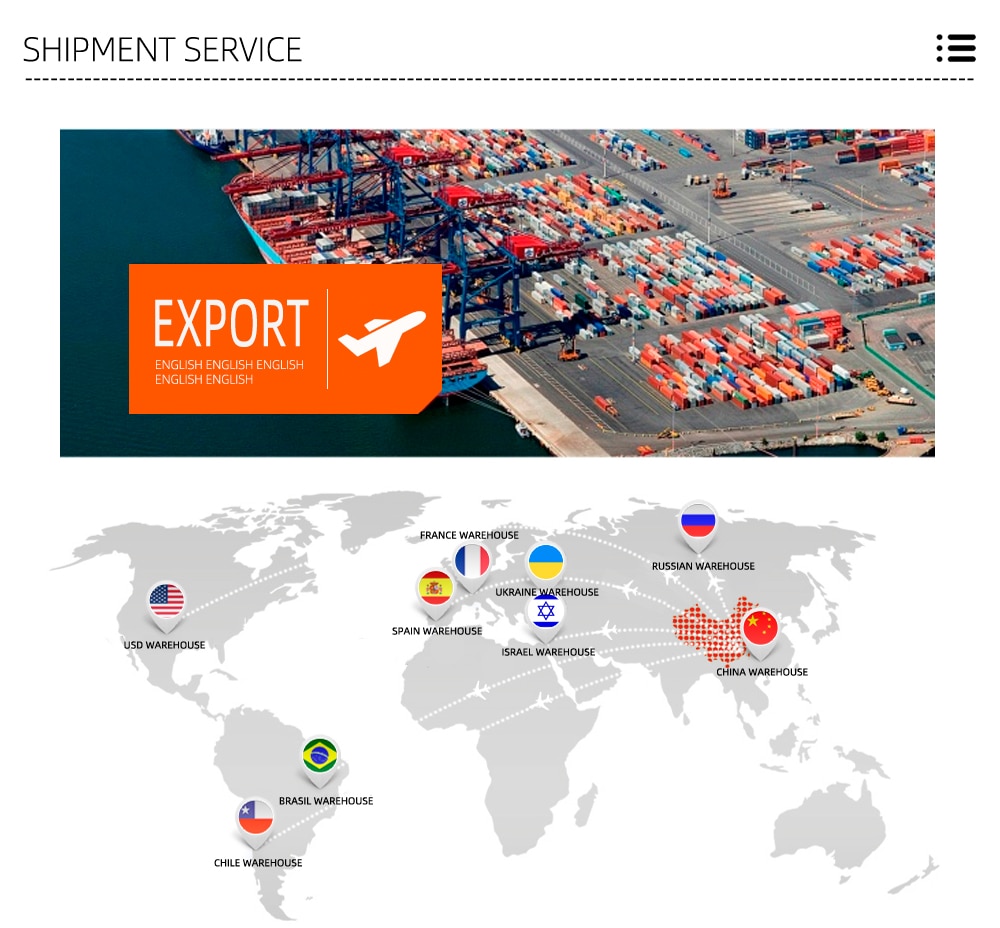 Share